Financial Reminders from Kobe, Nashville Tornado 2020 and Covid-19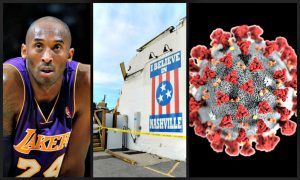 "Everyone has a plan until they get punched in the mouth." – Mike Tyson
The first quarter of 2020 has punched us in the gut, heart, and mouth in a way I have never seen in such a short period of time. On January 26, 2020, Kobe Bryant died in a helicopter crash outside Los Angeles as well as his 13-year-old daughter Gianna and seven other people who were flying to a basketball tournament. All nine people aboard the helicopter died when it crashed "in a remote" field in Calabasas, Calif. On March 2, 2020, severe storms and at least one tornado slammed through central Tennessee, killing 24 people and wrecking hundreds of buildings hours before dawn on Tuesday, March 3, 2020. An ongoing worldwide pandemic of coronavirus disease 2019 (COVID-19), a new infectious disease caused by severe acute respiratory syndrome coronavirus 2 (SARS-CoV-2), was first confirmed to have spread to the United States in January 2020. Cases have been confirmed in all fifty U.S. states, the District of Columbia, and all inhabited U.S. territories except American Samoa. As of March 28, 2020, the U.S. has the most confirmed active cases in the world and ranks sixth in the number of total deaths from the virus. 2020 has truly felt like a nightmare that will not end, however as I look back over the past three months, I am reminded of lessons we can learn from Kobe's Death, Nashville Tornado 2020 and COVID-19:
Be Grateful: Despite everything we have witnessed, endured and experienced since the beginning of 2020, the first reminder for me is to be grateful for life. Life may not be everything you desire it to be at this very moment but be GRATEFUL that you are alive. Life is precious. Life is finite. Life is a blessing. Wake up every morning GRATEFUL you have this life to live. I like the way Zig Ziglar talks about being grateful, "The more you are grateful for what you have the more you will have to be grateful for."
Life Insurance Check-up: We are reminded that life can be short. We are reminded that there are no guarantees in life "…. but Death and Taxes," from Christopher Bullock, The Cobler of Preston (1716). I am reminded we all need a life insurance check-up to confirm we have an adequate amount of life insurance to provide protection for our loved ones. Always remember, life insurance is the foundation of your financial plan. The rule of thumb for life insurance coverage is ten times your annual salary is the recommended amount you should have. If you have questions about your needed amount or if you have the proper type of life insurance coverage call our office for a complimentary life insurance analysis.
Estate Plan Review: In times of loss we tend to, and we should look at our own lives to make sure we have things in order. I was reminded through Kobe's death to review my own Estate plan. Are my beneficiaries accurate? Do I have beneficiaries on my IRAs, 401(k), savings account, checking account? Are my wills, trusts and life insurances up to date? Are my titles, deeds, and accounts properly titled? Now is the time to confirm and review if your estate plan is in order.  Please find a licensed and practicing attorney to give you the peace of mind that your estate plan is in order.  If you need an introduction to a qualified estate planning attorney call our office and we will provide you with that information.
Property/Casualty Insurance Update: In the aftermath of the tornado and storms that destroyed many homes and businesses in Middle Tennessee, I am reminding you to confirm with your property and casualty agent that your homeowner's, renter's, car, liability, business, and property insurance is up to date and adequate. I have found in most cases we tend to cut corners on our property and casualty insurance to save money but when calamity strikes, we regret not having enough insurance.  Make the investment today to protect your home, your business, your property with the current and needed insurance that will provide you the peace of mind you are covered. If you have not done so, call your property and casualty agent today to have a review of your current policies.
Cloud Storage/ Backup: Cloud storage is a cloud computing model in which data is stored on remote servers accessed from the internet, or "cloud." It is maintained, operated and managed by a cloud storage service provider on a storage server that is built on virtualization techniques.[1] Having your important data stored or backed up in the "cloud" is imperative in 2020. The ability to access important data remotely from any computer, tablet or phone like business contacts, financial statements, client records, reports, and presentations are essential right now. Also, important personal files like family photos, birth certificates, marriage licenses any item you want to save and protect from being destroyed in a fire or tornado are also important to scan and store in the cloud.  While millions of Americans are being quarantined, the ability to work remotely is essential to our way of life in a post-pandemic society. Now more than ever utilize technology to protect and store your important business and personal data. Cloud storage and backup can be tailored to fit your needs and budget if you need suggestions to give us a call at our office and we will be glad to help.
Emergency Savings: For years, we as financial advisors have stressed the importance of having emergency savings as a part of your financial plan, in times such as these we are reminded to all have fully funded emergency savings. Historically the rule of thumb has been three to six months of living expenses saved in a liquid, interest-bearing account like a savings account or money market account. However, because we see that during times of crisis like a pandemic having a twelve-months of living expenses saved should and will probably be the new standard. In the past emergency savings of three to six months were to cover your household expenses if you were disabled or lost a job and it was assumed it would take you about three to six months to go back to work or find a job. Now, it may take longer for someone to find a job if they have been laid off because disruption in many industries is reshaping jobs and positions as we know it.  Yes, it will require much work and sacrifice to have twelve months of living expenses saved, but it is necessary in our new way of living to have resources you can depend on during times of crisis.  If you would like suggestions and strategies on how to save more money give us a call at our office.
Investment Risk Assessment: Since the spread of the COVID-19 virus has reached all corners of our world, the stock market has felt the impact of this virus on our financial markets as well. At the time of this writing, the S&P 500 is down -19.76% for the year.[2] We have been reminded in market corrections the importance of having an accurate assessment of the risk you are willing to tolerate in your personal investments. The level of investment risk one is willing to take is determined best through a risk profile assessment that helps determine a proper investment asset allocation for a portfolio.[3] Now is the time to assess the appropriate amount of risk you are willing to take for your desired return in your investment accounts. If you desire to have a current risk assessment completed or would like to know how much risk your investments are exposed to currently call our office to schedule a free risk profile and or portfolio risk analysis.
Financial Advisor: In these uncertain times, having a licensed financial advisor working with you as you chart your next steps is vitally important. I have just named a few reminders and or lessons from this first quarter of 2020 that need our attention, but there are others that we are facing or will face in the future that need our focus as well. I would like to help you navigate these financial currents we are in and will get over with an objective perspective guided by integrity, experience, patience, and faith. If you would like to discuss how our firm can help you please call us at our office and we will do everything we can to help or if not provide connections to others who can. Keep the faith, this too shall pass.
[1] https://www.techopedia.com/definition/26535/cloud-storage
[2] https://money.cnn.com/data/markets/sandp/
[3] https://www.investopedia.com/terms/r/risk-profile.asp