Four Coronavirus Principles I Learned from Billionaire Ray Dalio's TED Connects Talk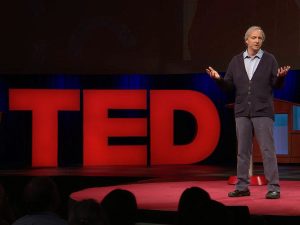 Four Coronavirus Principles I Learned from Billionaire Ray Dalio's TED Connects Talk
"In our seeking for economic and political progress, we all go up – or else we all go down."- Franklin D. Roosevelt
TED Connects is a live, daily conversation series featuring experts whose ideas can help us reflect and work through this coronavirus pandemic with a sense of responsibility, compassion, and wisdom.  On April 8, 2020, a virtual conversation part of the TED Connects series, hosted by the head of TED Chris Anderson and business curator Corey Hajim took place with Billionaire hedge fund founder Ray Dalio.[1]
Who is Ray Dalio you ask? Raymond Thomas Dalio (born August 8, 1949) is an American hedge fund manager and philanthropist who has served as co-chief investment officer of Bridgewater Associates since 1985. He founded Bridgewater in 1975 in New York. In 2013, it was listed as the largest hedge fund in the world. In 2020 Bloomberg ranked him the world's 79th-wealthiest person. Dalio is the author of the 2017 book Principles: Life & Work, about corporate management and investment philosophy. It was featured on The New York Times bestseller list, where it was called a "gospel of radical transparency."[2] Now back to my point of this blog.
In this TED Connects talk, Ray offers wide-ranging insight and advice on how we might recover from the global economic fallout of the coronavirus crisis — and use it as an opportunity to reform the systems that help grow our economy.
I encourage everyone to invest the time to listen to this entire conversation on how this coronavirus will impact us all economically today and in the future (Click here to listen). As I listened to the entire conversion there are four lessons we can learn and apply during this coronavirus pandemic:
Importance of Savings: The next few months are going to be extremely difficult for those who are living paycheck to paycheck. If you are not saving for emergencies, begin immediately. Ray's perspective and opinion are, we are heading toward a depression that will impact our economy for the next two to three years.  Begin or continue saving as much money as you can from your earnings and place them in a liquid, interest-bearing account earmarked for emergencies.  If you need strategies on the best ways to save for emergencies to give me a call at our office so I can help you build the appropriate savings, you need now and in the future.
Excess Investment Cash: For those with excess cash, they will truly be able to take advantage of how low stock prices are and will be in the next few months. John W. Rodgers, founder, chairman, and CEO of Ariel Investments echoed this belief on March 10, 2020, during his interview on CNBC's Squawk Box (click here to watch). Before investing in the stock market, you must take into consideration your time horizon, liquidity, risk tolerance, goals, and objectives. I can assist you in determining if now is the right time for you to consider taking excess cash you may have currently and invest in the stock market.  Give me a call and schedule a no-obligation complimentary investment analysis to discuss timing, options, and suitability.
Multiple Income Streams: If you only had one income stream and lost your job, you will come to realize how vital multiple income streams are today. Ray Dalio's outlook on the economy for the next few months should challenge all of us to find ways to increase our streams of income.  Whether it is via real estate investing, stock market investing, opening a business, investing in a franchise or a combination of them all it is imperative to have more than one source of income.  If you would like to discuss strategies on how to create multiple streams of income, please call me to schedule an income & investment plan review.
Frugality: As Ray discusses his view of the future for the economy and many businesses, and the impact coronavirus will have on their viability, we as individuals should make our financial viability our goal during this pandemic. Those who are living below their means will be able to get through this time much easier than those who are in immense amounts of debts. Getting and staying out of debt, decreasing expenses while increasing income, saving and investing are all the things you need to do now to keep you and your family in a place of financial security.  If you would like to know more about how to live frugal at this time call me to schedule a time to talk about your current financial plan.
[1] https://www.ted.com/talks/ray_dalio_what_coronavirus_means_for_the_global_economy
[2] https://en.wikipedia.org/wiki/Ray_Dalio