Nike, Kaepernick & Retirement Planning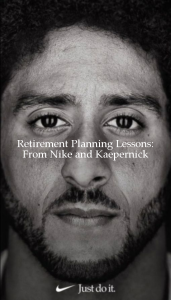 Nike, Kaepernick & Retirement Planning
Do it Now. Sometimes "Later" becomes "Never". – Anonymous
On last week, just days before the start of the NFL's 2018 season, Nike announced that Colin Kaepernick would be the face of the 30th anniversary "Just Do It" campaign. With Kaepernick still without a quarterback job and a collusion case against the league ongoing, the move achieved at least one of Nike's goals: It got attention.
With all of the attention this decision has generated for Nike and Kaepernick, it made me think about why this campaign should cause us to shift our attention and emotion towards our Retirement Planning.  Retirement Planning you ask? Yes, Retirement planning.  All of the energy we are devoting to burning shoes, cutting logos out of socks, debating back and forth with those who do not agree with us, Nike and Kaepernick are reaping the profits. Nike's uniform and apparel contract with the NFL was renewed until 2028 prior to the release of the Kaepernick deal. Nike stock is being bought at unprecedented rates since the campaign release. Kaepernick's Nike deal is reported to be worth millions of dollars per year and yet we are watching videos of people burning their Nike shoes while they are still wearing them.
In the midst of our beliefs and feelings regarding the NFL, Kaepernick's kneeling, Trump's stance on the players protesting, Nike's capitalistic economic decision more than a socially conscious one we should focus on our retirement future. Why? Nike, Inc. is a multi-billion dollar company. Colin Kaepernick is a multi-millionaire. Nike will be fine financially now and in the future. Kaepernick ,if advised well, will be fine financially now and in the future but what about you?
Are you confident that if you live another 30-40 years that you will be able to maintain your standard of living?  Do you have a written plan in place that shows you step-by-step how you will never run out of money no matter how long you live?  Do you know how your investments within your retirement account will fare when the stock market has its next correction? Do you know how much you will pay annually in income taxes from your Social Security income, pension income and IRA distributions? Do you know how much you are paying annually to your investment managers to advise you on your current retirement accounts? Do you have a plan to cover your monthly expenses and lifestyle needs if you became disabled and were unable to work? Do you have a plan to cover the replacement of your income for at least 10 years if you died prematurely? Do you have a plan to pay the income taxes on all of the withdrawals you will receive from your pre-tax retirement accounts? Do you know to whom and how your assets will pass after you exit stage left in this world?  If you cannot answer all of the aforementioned questions with confidence and clarity we can help you.
I believe everyone needs a written Income Plan, Investment Plan, Health/Life Plan, Tax Plan and an Estate Plan. If you do not have all five plans written and provided to you by a trained and licensed retirement income planner call us at 615-678-6603 and we will assist you. Nike and Kaepernick will be fine financially, will you? We can help you have the financial confidence you need. There is no cost to call us or meet with us, pick up the phone now "Just Do It". You will be glad you did.